Tips for Packing Your Car for a Holiday Road Trip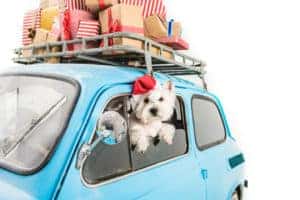 With the winter holidays upon us, it's time to wrap gifts, load up the casserole dishes, gather our loved ones and figure out how to fit all those things into our vehicles while still (hopefully) keeping our sanity.
Whether you're driving across town, or across the country, a holiday road trip can make great memories but also present a variety of issues when it comes to getting your car packed up properly. To make sure your holiday vacation gets off to a great start, here are our top tips for packing your car for a road trip.
Pack for Convenience: Yes, maybe your laptop could be squeezed in on top of your suitcase in the trunk, but how convenient will that be when you need to access it? Your laptop, along with other things you may need during the trip, should be kept in close reach, including:
Wallets/ purses,
Cash/credit cards
Cell phones and other electronics
First aid kit
Extra coat or blanket
Snacks and drinks
Overnight clothes (keep your pajamas and things you'll need when you get to your destination, at the top of your suitcase so you won't be struggling to find them when you're tired).
Minimize What You Pack: Consider buying toiletries and other small things on the way instead of packing them. If it's a longer trip, plan to do laundry at least once instead of packing clothes for each day.
Stay Organized: Things can get messy on a long road trip especially with kids or teens in the car. To avoid getting to your destination and having your vehicle look like it just survived a tornado, bring along a plastic crate or box to store electronics, snacks, and other loose items. Similarly, a garbage bag for trash will also help keep the road trip destruction to a minimum Make sure to empty trash at rest stops to keep it from piling up.
Pack Smart: Along with keeping essentials in reach, you want to make sure when you pack that you secure items properly and place heavier items under lighter ones. However, keep stacks below the window line to avoid blind spots.
Also consider avoiding leaving expensive items and presents out in plain view. If you need to leave your car unattended, having presents clearly visible could be an enticement to criminals. Instead, hide what you can in the trunk or conceal items with a blanket.
Roof Storage: If you've run out of space inside the car and you still have essentials you want to pack, we recommend a roof storage unit. These units attach securely to your roof, adding considerable storage space. While a good unit will protect your items from the elements, you'll still want to limit the kinds of things you put in here. Less expensive, sturdy items are best suited for this storage along with anything you don't need regular access to while in the car.
Have more holiday gear than you have car space to put it in? It might be time for an upgrade! Check out the Lebanon Chrysler Dodge Jeep Ram dealership's inventory of new and pre-owned vehicles including spacious cargo vans and trucks.