Buying a Car for Graduation: Do's and Dont's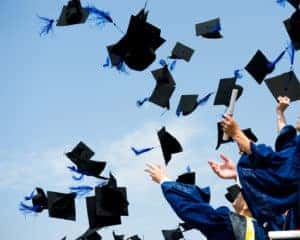 It's almost graduation season again and that means many high school and college graduates will have their dreams come true with a brand-new car. However, even an amazing gift like this can turn into a nightmare if you don't take some things into consideration. To ensure your gift of a vehicle makes your graduate happy for more than a day, follow these dos and don'ts for graduation car gifts.
Do Consider Gas Mileage
Unless you plan on forking over the price of gas for your graduate along with paying for the car itself, you may want to avoid large SUVs and luxury cars. While this might be a teenager's ideal car, they won't feel that way when they're spending all their money at the gas pump. Do them and yourself a favor and opt for a smaller, more gas efficient model like this Jeep Renegade.
Don't opt for a Sports Car
While many young adults would love a sporty looking car, these are often not the best option. Not only will insurance usually be higher, but this type of car can encourage speeding and less than safe driving practices among inexperienced drivers. Instead of something extravagant and flashy, choose a car with a great safety rating.
Do Discuss Safety and Cost with Your Graduate
The costs and responsibilities of a car don't end when you drive it off the dealership lot and, if this is someone's first vehicle, they will need to know what that entails. Make sure they know what their responsibilities are in regard to maintenance, insurance, fuel costs and safety concerns. Knowing this ahead of time can help them prepare for and avoid disaster.
Don't Choose the Most Expensive Model
Getting a car with every new gadget and feature means a hefty price tag and often a lot more things that can potentially break in the hands of a new and inexperienced driver. Instead, choose an older or less advanced model. This will often be far more than enough for most teens and early 20-somethings.
Do Buy from a Trusted Dealership
When buying a car for a graduate, especially if you're opting for a pre-owned vehicle, you want to ensure you only buy from an established and trusted dealership. At Lebanon Chrysler Dodge Jeep Ram dealership, we're known for both our flexible financing on new cars and high-quality pre-owned vehicles. During graduation season, we run a variety of sales and promotions to make this amazing gift even more affordable and enjoyable for you and the graduate in your life.
To find great vehicles to meet your budget and make your graduate's driving dreams come true, check out our selection of quality new and pre-owned vehicles.