Airbags & Appetizers | Lebanon Chrysler Dodge Jeep Ram Service Event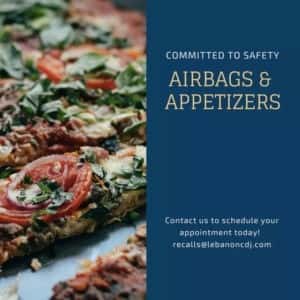 Lebanon Chrysler Dodge Jeep Ram knows safety recalls are a hassle for vehicle owners. We are committed to doing our part to complete all safety recalls mandated by NHTSA Takata Airbag Inflator before December 31, 2017.
LCDJR Service Manager Bob Fawcett and General Manager Bridget Reinberger have announced extended service hours on Thursday evenings to encourage vehicle owners to have their safety recalls completed before the end of the year.
Find out if your vehicle has been impacted by Takata Airbag Inflator recall by visiting the NHTSA site. Owners may not always know their recalled vehicle still needs to be repaired. NHTSA's search tool lets you enter a Vehicle Identification Number (VIN) to quickly learn if a specific vehicle still needs repair.
If your vehicle was listed for the following recalls:
R25/NHTSA 15V-313 Driver Airbag Inflator
R26/NHTSA 15V-312 Passenger Airbag Inflator
R37/NHTSA 15V-444 Driver Airbag Inflator
R49/NHTA 15V-354 Passenger Airbag Module
It is imperative that you have your service completed. You don't want to leave safety to chance.
Hang out with LCDJR at our Airbags and Appetizer events.
Each Thursday evening beginning September 28, 2017.
Contact us to schedule your appointment today!
recalls@lebanoncdj.com